Let's build together
bld.ai provides consultancy services through our global network of partners who use our unique proprietary platform Flow to optimize interactions between clients and partners. Together we efficiently deliver fully deployed, adopted, and supported digital products.
A Little More About Us
A few facts
Founded in 2018
bld.ai was founded in 2018 by business leaders, professors, designers, engineers, and data scientists who were passionate about finding a better business model to build software for clients.
Served more than 100 clients
We have served over 100 clients who range from big enterprises to VC backed startups. Our project sizes range from $10,000 to $10,000,000 USD.
Over 600 skilled workers
Our partner network includes more than 600 skilled workers including, data scientists, designers, developers, engineers, and product managers.
High quality software services
Our business model evolves to ensure we deliver high quality software services efficiently for our clients and profitable growth for our organization.
Through our network we provide thought leadership and high quality software services leveraging our unique platform Flow.
Our goal
bld.ai's goal is to seamlessly connect our clients with our global network of high quality software service providers (i.e., partners). Flow automates all internal process which allows us to minimize prices for clients while maximizing revenues for partners.
Our clients
We work hand-in-hand with our clients ranging from big enterprises to startups. Clients utilize our teams to build products that create a differentiated customer experience. Together we quickly bring your vision to a fully deployed, adopted, and supported digital product.
Our partners
Partners are thoroughly vetted consultancies, dev shops, design studios, and expert freelancers. Partners use Flow to connect with clients and other Partners to efficiently implement our clients' vision. bld.ai's independent QA teams work with clients and partners to ensure high quality products.
The Flow platform
Flow facilitates work between our clients and our Partner Network. It streamlines workflows, automates back-office tasks, incentivizes sales and recruitment to grow our network, and automatically allocates revenue to Partners.
Client Benefits
Client benefits include
Thought leadership
Thought leadership
Quality assurance
Quality assurance
Fast delivery speed
Fast delivery speed
Cost optimization
Cost optimization
Risk managements
Risk managements
Partner Benefits
Partner benefits include
Global opportunities
Global opportunities
Financial benefits
Financial benefits
Process automation
Process automation
Culture of collaboration
Culture of collaboration
Work flexibility
Work flexibility
How to launch
I want to find a team and start building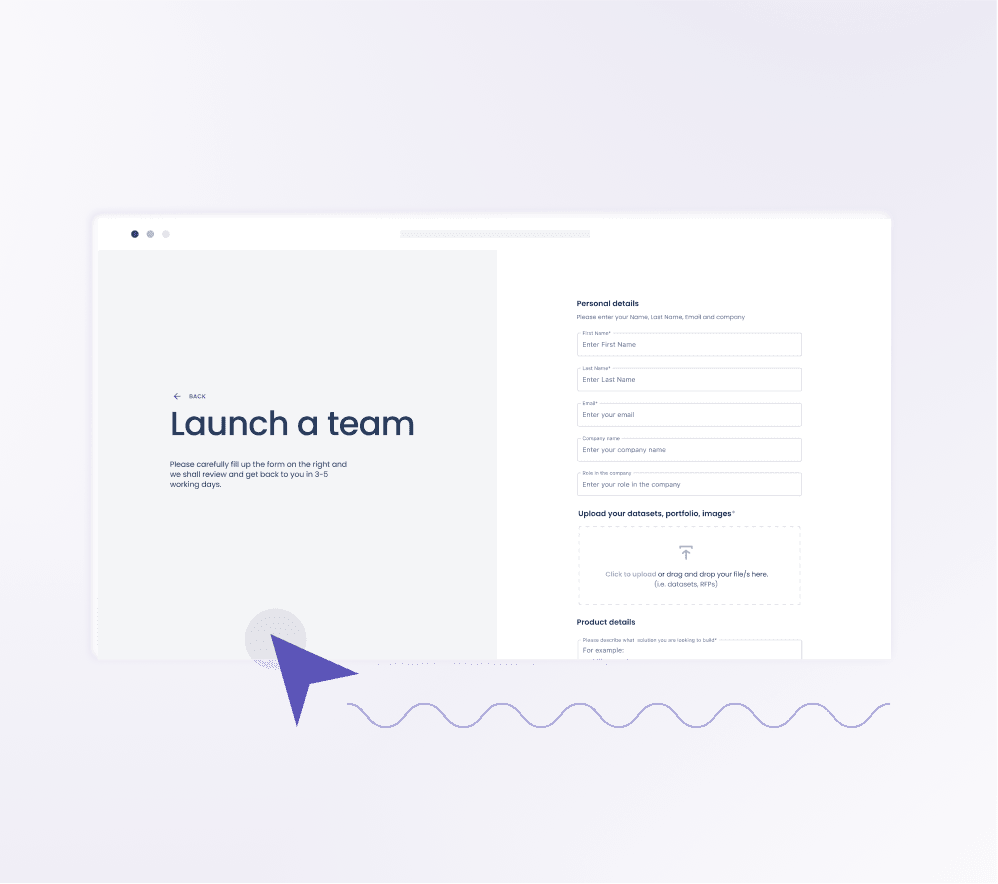 Complete launch form
Complete the launch form and provide our partners project details (e.g., problem statement, milestones, budget, etc.).
Get a proposal
Our partners will respond quickly to refine the problem statement and proposed solution and prepare detailed milestones and cost and schedule estimates.
Sign documents
Sign all legal documents (e.g., NDA and MSA) using our streamlined document signing workflows.
How to join
I want to join the partner network.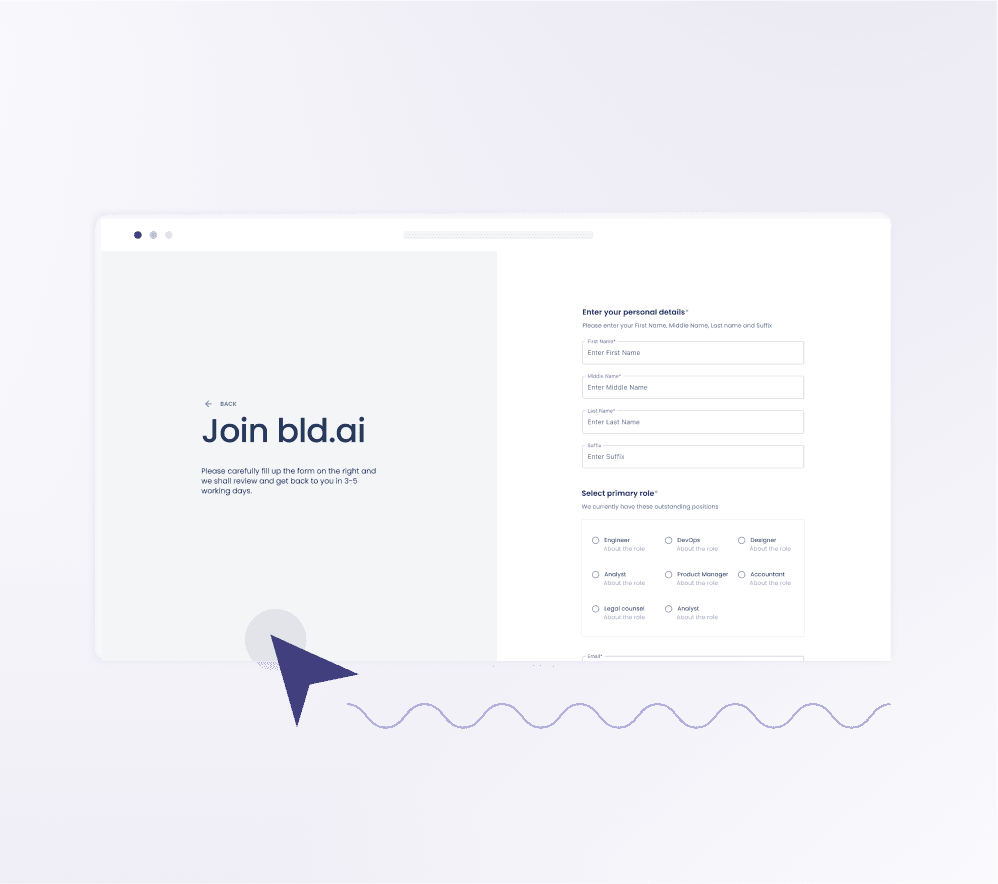 Complete join form
Tell us a little bit about yourself and the position you are applying for.
Interview with our partners
Members of our partner network will reach out and conduct ~3 interviews to learn more about you and your capabilities.
Sign documents
Sign all legal documents (e.g., NDA and consulting agreement) using our streamlined document signing workflows.
Start building
Find a project on the bld.ai network and start building.
The bld.ai partner network
Our Clients
contact us
Ready to start building?
Join bld.ai today
Get started with bld.ai today
Join bld.ai
Launch a team
Get started with bld.ai today
Launch a team